October 23, 2022
Psychedelics (also known as hallucinogens) are mind-altering substances that can alter your perception, mood and reasoning. But researchers are finding psychedelics may offer more than just an escape from reality. In fact, they're becoming a major player in future treatments.
The promise of psychedelics for medical treatment is a hot topic, and ketamine is leading the way. Esketamine, a form of ketamine is the first FDA-approved psychedelic drug to treat depression — and the first new pharmacologic approach to depression treatment in over 40 years.
To learn more, we turned to MU Health Care's interventional psychiatry experts who use nerve stimulation with medication for difficult-to-treat mental health conditions. They were the first in the mid-Missouri region to offer esketamine therapy (the approved form of ketamine) after its approval in 2019. The program's director, Dr. Muaid Ithman, and physician assistant Robert Sobule are excited about the results they see.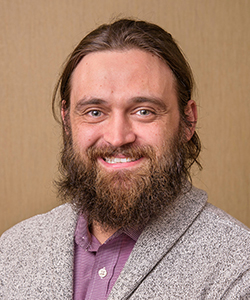 "Depression is not a matter of one treatment or one method that can solve the issue," Dr. Ithman says. "But since the approval of esketamine, it has been in good use and has helped many people with major depressive symptoms."
Embracing Ketamine for Depression
More than 8% of American adults experience a major depressive episode each year. Even though there are effective treatments that can target specific neurotransmitters in the brain, like serotonin, to better regulate mood, cognition and emotion, up to 46% of people don't find complete relief. And those who do find success with medications may still have to wait four to six weeks for them to take effect.
"Patients with severe depression have to wait a long time to see a response," Dr. Ithman says. "So it was imperative to find another treatment that is effective and has a quick impact."
Researchers began studying psychedelics — which aren't addictive and rarely produce hallucinations at normal doses — and realized their antidepressant effect. Ketamine, initially introduced in the 1970s as an anesthetic used during surgery, offers an excellent possibility to treat depression quickly and effectively.
"The effects of ketamine are fast and strong — usually within 24 to 48 hours," Dr. Ithman says. "For people with severe depression, ketamine offers quick relief, and they can continue with antidepressants if needed."
Ketamine vs. Esketamine
The only FDA-approved form of ketamine is an intranasal spray called esketamine (SPRAVATO®). Esketamine comes from ketamine and offers a robust antidepressant effect with less feelings of disconnectedness, ultimately leading to more tolerable experience than intravenous ketamine infusions.
Some hospitals and clinics do offer ketamine in intravenous form as an off-label intervention, and it is effective at quickly treating the symptoms of depression. But it's not covered by insurance and can be costly.
Who Is a Candidate for Esketamine?
Esketamine treatment is currently approved for people who have not had success with depression treatment. Criteria includes:
At least two failed attempts with different types of antidepressant drugs
Adequate dosing during each antidepressant attempt
Attempts that took place during a depressive episode
Patient Experience with Esketamine Treatment
Esketamine treatment is not for everyone and requires a thorough examination and consultation. "We do evaluations on all patients referred to us," Sobule says. "If they've met the criteria and esketamine is the most appropriate option, we get them started as soon as possible."
Esketamine is administered as a nasal spray in an outpatient setting. Throughout the course of treatment, patients are monitored for two hours (an FDA mandate) and cannot drive themselves home. Clinicians keep an eye out for side effects, which include:
Dissociation, which may include vision distortion or a dreamlike state
Depersonalization or having an out-of-body experience
Headache
Increased blood pressure, monitored throughout treatment
Nausea
A typical course of treatment may begin with two treatments a week for a couple of months before progressing to weekly and bi-weekly treatments. Eventually, patients enter a maintenance phase or taper off treatment altogether.
"The majority of families and patients we treat feel like it has given them hope and relief. They're relieved that there are options out there to treat their depression," Sobule says.
How Ketamine Differs from Other Psychedelic Therapies
Ketamine isn't the only psychedelic drug giving people hope. Researchers are considering several other psychedelic therapies for medical conditions, including addiction, trauma and mental health issues.
The most common psychedelic drugs in research include:
LSD (lysergic acid diethylamide), also known as "acid"
MDMA (3,4-methylenedioxy-methamphetamine), commonly called "ecstasy" or "molly"
Psilocybin, also called "magic mushrooms"
But not all psychedelic drugs are created equal. The majority increase pressure in the brain and have a powerful and long-lasting effect. Ketamine stands out as different. It relaxes the inhibitory part of the brain to produce a gentle, dreamlike state.
"Ketamine is gentler, which is helpful with certain illnesses like depression and anxiety," Dr. Ithman says. "But it's not the only answer because people are not only suffering from depression. People with trauma may need a stronger and more sustainable effect than ketamine. But ketamine has opened the door, and I'm hoping we'll continue moving forward."
Paving the Road for Ketamine Treatments
The protocol for ketamine and esketamine treatments is still a work in progress and varies from clinic to clinic. But Dr. Ithman and Sobule are putting their experience administering the medication to good use.
"We're doing an ongoing study, continuously reviewing our data and the results we've seen with esketamine since we started treating patients in 2019," Sobule says. Their analysis closely examines the drug's effectiveness and outcomes and explores possible interactions with other medications.  They hope their clinical experience and data will help further advance guidelines, protocols, and ultimately patient success in the future.
"Depression should not be left untreated. That's why we provide different treatments and therapies," Dr. Ithman says. "When one does not work, we try to offer a different one. We have to explore every aspect and option to treat this challenging disorder."
---
Next Steps and Useful Resources