By: Abigail Schlarbaum
November 18, 2022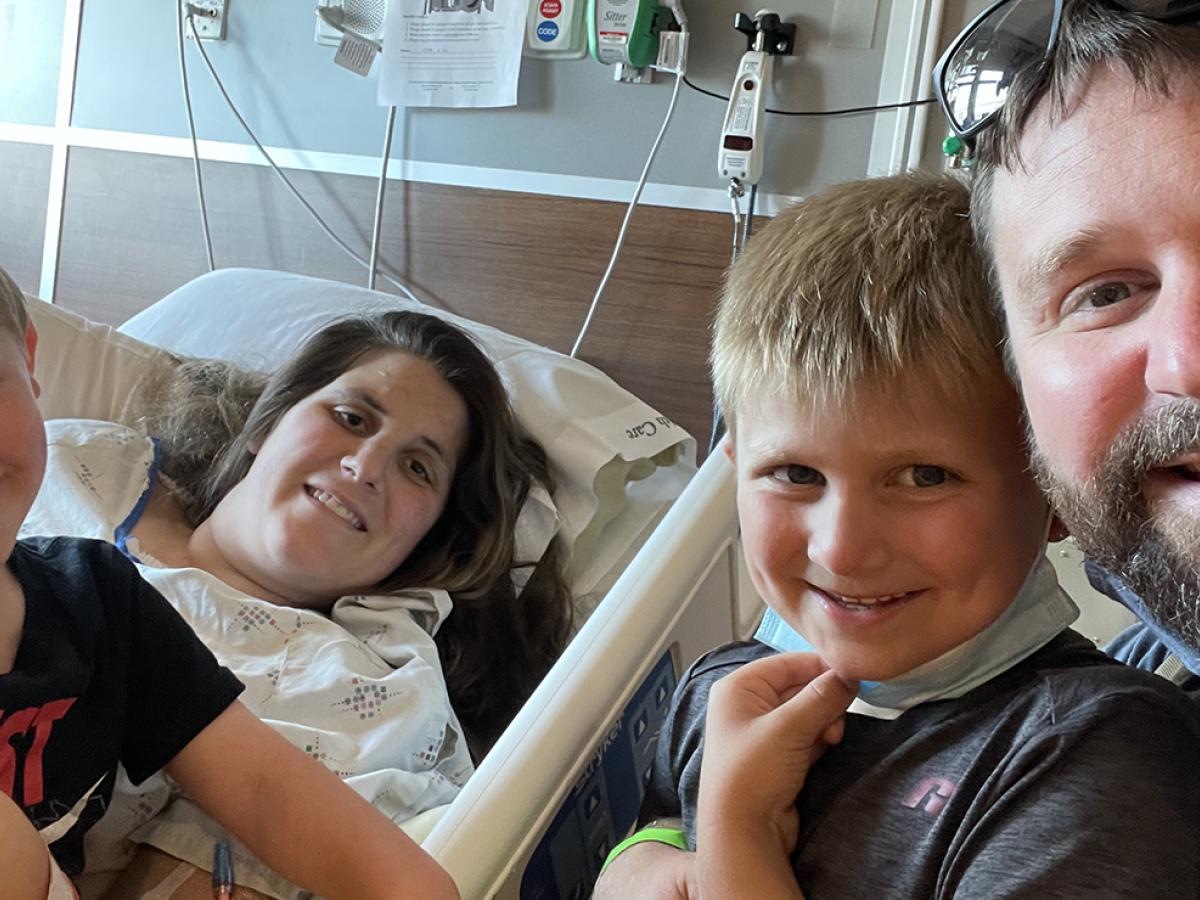 *Given the traumatic nature of her story, many of the details are still a blur. Here's what she remembers, in her own words.
The day it happened: July 9, 2021.
I was driving home from a hair appointment that afternoon and was mere miles away from home when my accident occurred. A man backed his haybale loading pickup truck onto the highway. I had zero reaction time, and we collided. My vehicle shortly thereafter caught on fire — all the while I was trapped inside. I was unable to open my car door, and I couldn't move due to my legs being severely injured. Thankfully, two men were able to get me out seconds before my vehicle burst into total flames.
Eventually, I was flown to MU Health Care by helicopter, even though my accident took place in Iowa. You see, there were major storms occurring around all of the trauma hospitals in Iowa. So, Missouri it was, and thank God for that. Upon arrival, I was immediately surrounded. Trauma doctors, nurses, respiratory therapists, you name it, they were there.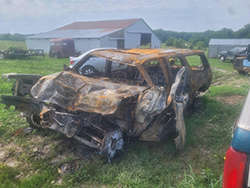 Not Looking Good
It was obvious my legs were horribly injured, and to make matters worse, I was 36 weeks pregnant. But at the time of arrival, we didn't know much about my condition except my blood pressure was low. The flight medics and nurse were unable to obtain an IV on me, which was all too concerning. I should mention I am a respiratory therapist, and being so, I have been a part of many traumas and codes myself. I knew all too well, that things were not looking good.
We later learned my pressure was so low because I was bleeding internally from uterus aorta. The baby was deceased upon arrival. Of course, learning this later was a devastation I cannot describe. Something I continue to struggle with daily. Miraculously though, they were able to save me.
Fighting for My Life
My husband had no idea that when he arrived, I would be fighting for my life. He was initially met by Dr. Chris Nelson and Dr. Jared Sheppard (two incredible trauma doctors who played a significant role in saving my life) who made him aware I was bleeding internally, and they weren't sure where it was coming from. My husband responded, "Well, you're going to keep putting blood in her until you figure it out, right?" They assured him they would. One hundred and ten units of blood and three flatlines (asystole) later, I am still alive to tell my story.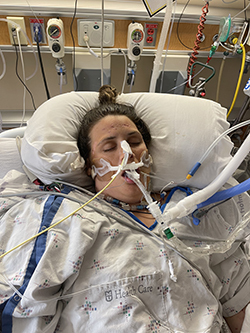 I was told by some of the staff that this was a record for most units received at MU Health Care, which is astonishing to me. Being in the medical field, I have a hard time believing I survived. I know without a doubt in my mind that the good Lord worked through MU Health Care's medical staff's hands to save me. If you're in the medical field, then you know things don't always run as smoothly as you intend. Keeping me alive not only took impeccable timing, but also staff members who weren't willing to give up, whose grit and determination kept my heart still beating, even when they had push to wake it up again. Not only did the team save my life, but my brain still functions and I'm able to walk again. I'm beyond thankful — because my life not only mattered to me, but also my two little boys, my husband who is my absolute best friend and my family who loves me more than anything.
Going Above and Beyond
I have had a rough year of recovery, including many surgeries after I was released from the hospital. I'm actually still a patient of Dr. James Stannard, an orthopaedic surgeon at the Missouri Orthopaedic Institute. I'm not sure if there's a more caring, truly brilliant man. He wants his patients to succeed, and he gives you the tools to do so. His nurse, Nichole Wilson is truly an incredible, compassionate woman who knows her stuff. In fact, I can honestly say the entire staff at MU Health Care was so impressive.
I know there were many times I was honestly not in my right mind, being as I was on so many pain medications and sedatives after being on a ventilator for 13 days. The staff in the surgical intensive care unit, 7 west, the burn team, each one of my surgical teams, pulmonologists, etc. treated me with nothing by kindness and absolute respect. Their compassion and patience with me when I was in significant pain and confused was remarkable. My nurses and aids spent time brushing my hair, brought nail polish in to paint my nails and constantly did their absolute best to make sure I was comfortable and had anything I might need.
I told one of my nurses about how my husband was having a difficult time finding back-to-school clothes for our oldest son because I typically did. The next morning, another one of my very kind and caring nurses came in with a bag full of clothes for my son. Talk about going above and beyond to listen and hear your patient's needs. Even the obstetrics (OB) staff — who consciously, I never met. My husband tells me they could not have been more compassionate and caring to him. They went above and beyond to meet his needs, and they cared for our deceased son in the most delicate and appropriate way, allowing my husband to fulfill some of his wishes during a truly devastating time.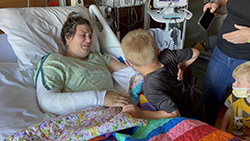 Reflecting on Reversed Roles
When you're in the medical field, you are constantly taught ways to treat your patient with kindness, compassion, dignity and respect. I can honestly say, being on the opposite end of things — being the patient and not caring for the patient — MU Health Care truly exceeded any expectations I had. When I think of my time there, I get very emotional, not only because of the very real trauma I went through, but because of the wonderful people I had caring for me and my husband. They never failed to keep him informed and constantly thought of his needs as well as mine. I know what it feels like firsthand to see or feel frustrations when you're dealing with difficult situations as a health care professional. I want all of MU Health Care to know, I received the very best care, and you all will hold a very special place in mine and my husband's heart.
From the very bottom of my heart, thank you all. You saved a mom, a wife, a sister and a daughter.
Abby is a resident of Bloomfield, Iowa, a wife to Chase and a mother to Ryker (7), Conner (4) and Caden (in heaven). She is a respiratory therapist who also enjoys living the Iowa country life, which includes raising chickens, working and riding her three horses. More than anything, she enjoys being a mom and all the things that come with it.
---
Next Steps and Useful Resources