October 25, 2021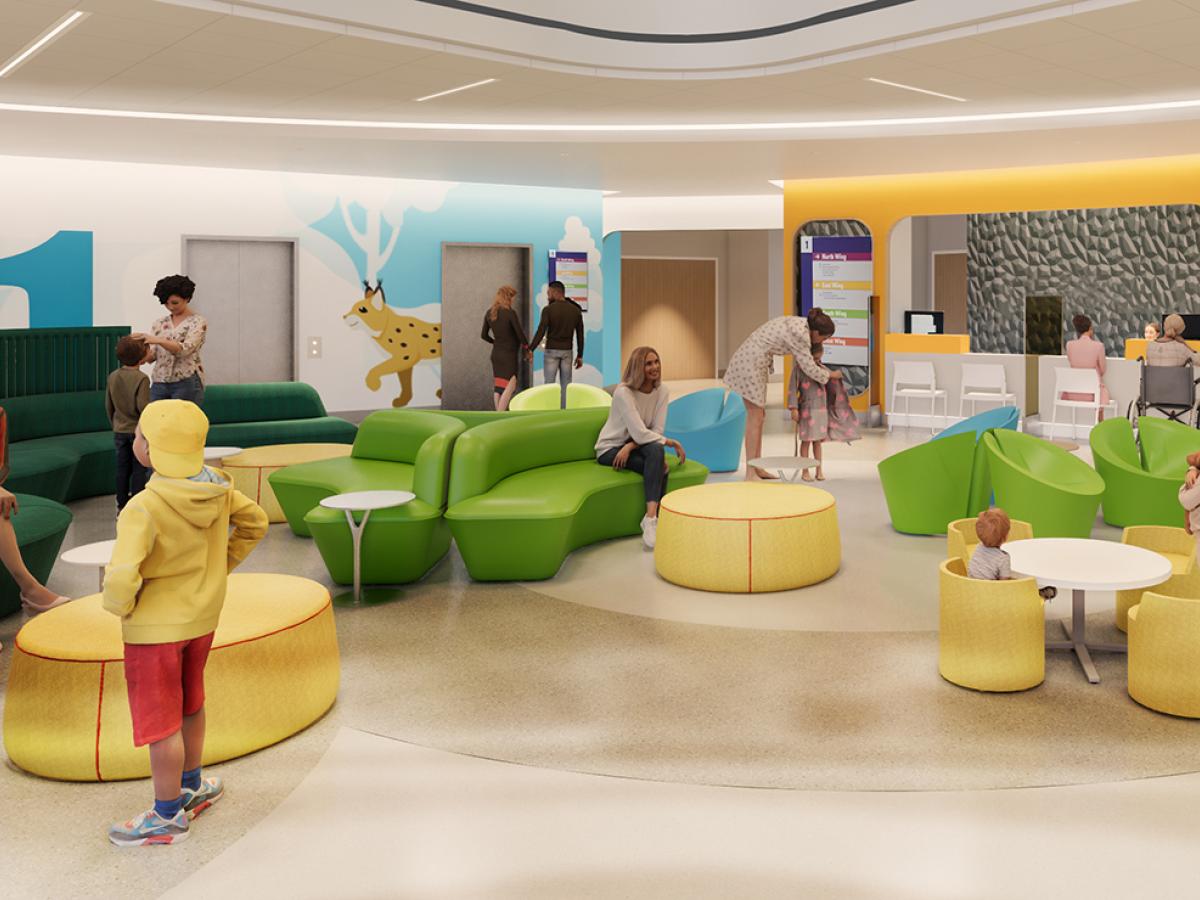 It's an exciting time for pediatric care in mid-Missouri! Set to open in 2024, MU Health Care's brand-new Children's Hospital is currently being built from the ground up with kids in mind. With insights and input from over 40 teams of doctors, staff and patients, we took the opportunity to reimagine the way we deliver care — starting with the building itself.
Here are a few behind-the-scenes secrets to the design:  
More than Just a Cute Color Scheme — Healing Colors
Multiple studies show that color can impact moods and healing in the health care environment. Using evidence-based design theories, the architects and design teams for our new hospital chose specific colors to represent healing themes throughout the facility, including:
Green: A color that symbolizes growth, calm and well-being, green is used as a prominent color throughout the nature-themed lobby.
Yellow: Known as a cheerful, optimistic color, yellow is said to help stimulate positive emotions and create a sense of warmth. Yellow is used throughout the facility and is also the main color of the NICU.
Blue: Linked to calmness and serenity, blue is the primary color used throughout the new facility's spa-like labor and delivery floor.
Purple: Like blue, purple is considered to be soft and relaxing and is the primary color of the neurosciences ICU.
Inspiration from Nature
Similar to the impact of certain colors, nature has been proven to promote healing. In fact, one landmark study comparing hospital rooms found that patients who had a view of trees and nature had faster recovery times, less pain and an overall more pleasant experience. Even more impressive: additional studies revealed the natural elements could be real or fake (such as murals or photos) and still have the same effect. So naturally (see what we did there), we took every opportunity to incorporate nature into our new Children's Hospital.
Texture
Textures throughout the building will have a high connection to patterns that can be found in nature, like that of grass, trees and even migrating birds. As an added layer of fun for the locals, the Children's Hospital designers chose textures that are unique to Missouri, like the cliffs, hills and caves of the Ozarks and the rivers and woodlands found throughout the state.
Animals
You'll also see some of Missouri's native animal friends throughout the facility. These familiar animal friends will provide helpful wayfinding for caregivers while offering some distraction and comfort for kids.
Natural Lighting
Beyond offering a nice dose of vitamin D, studies have found that natural light in the hospital setting can help reduce stress, improve sleep and ease pain. As architects were designing the new Children's Hospital, they performed daylighting studies to see how the sun and natural light affected the different sides of the building. That way, they could optimize the ways they brought in natural light while minimizing glares on any reflective materials. And although many of the spaces will offer natural lighting, one of the most impressive will be the two-story windowed entrance and lobby that allows natural light to flood the space.
Designing with Kids and Families in Mind 
Whether it lasts an hour or a month, visiting a hospital can be stressful experience for kids and families — something we wanted to minimize as much as possible. From arrival to discharge, every detail of our new hospital is designed to provide a warm, inviting atmosphere with kids and families' needs in mind, including:
A convenient check-in process: In addition to the traditional registration desk, self-check-in kiosks will also be available to make check-ins quick and convenient.
Ample seating: Multiple seating areas and arrangements will be available to give families a space to relax as they wait for appointments or take a break from their rooms.
Interactive waiting areas: The facility will feature multiple interactive areas that are inclusive for those with special needs.
Outdoor space: Patients will be able to take a break from their rooms and get some fresh air in one of two secure outdoor parks.
Play areas: New play areas for young kids as well as a computer room for teenagers will provide fun spaces for patients to venture out of their rooms.
A family room: In partnership with Ronald McDonald House Charities, the new Children's Hospital will feature a space for families to relax — complete with a kitchen, shower, two sleeping rooms, laundry facilities and more.
---
Next Steps and Useful Resources