May 19, 2022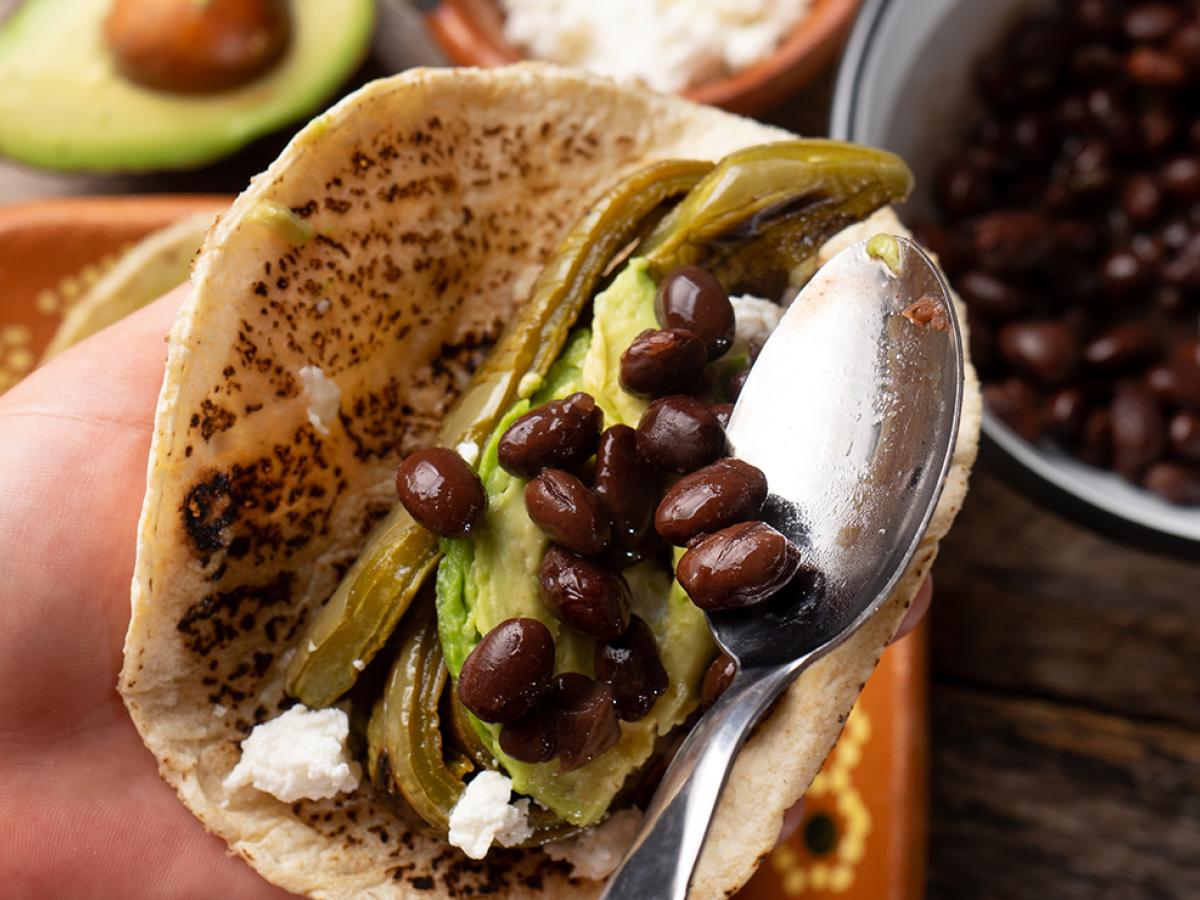 Healthy eating doesn't have to be limited to salads and rice cakes. Variety is the spice of life, and when you know how to eat healthy within other cultural cuisines, you'll have the world at your fingertips (and at your dinner table).
To learn the basics of healthy eating across several cultures, we turned to Elizabeth Freeman, clinical dietitian at MU Health Care. In this first installment of our Eating Healthy Across Cultures series, Freeman reveals how to eat healthy while enjoying the distinct blend of spices, flavors and vibrant colors that distinguish Mexican food.
Mexican food traditionally includes a lot of healthy produce and fresh spices. But it can also be rich, full of melted cheese, creamy sauces, higher fat meats and tortillas fried in oil.
The good news is that with a few small tweaks and a plan, you can enjoy the flavors of Mexico while walking the path to wellness. Here's what you need to know:
Making Healthy Mexican Food at Home
To ensure your Mexican food is healthy, grab your apron — cooking your own food puts you in control of the ingredients you use and how you cook them.
Healthy Ingredient Swaps
Whether the dish you're making is an old family favorite or a recipe you plucked off Pinterest, you can instantly make it healthier by tweaking the ingredients. The key is making smart swaps that add nutritional benefits without losing the flavor or essence of the recipe. Try using:
Brown rice (or no rice) instead of white rice: Brown rice has more fiber, vitamins and minerals than white rice, making this swap a no-brainer. But if you are looking to lessen the amount of carbs you consume, opt for less or no rice.
Corn tortillas instead of flour tortillas: Corn tortillas offer whole grains, simpler ingredients and less fat and sodium than white or wheat flour tortillas of the same size.
Extra veggies and healthy fats: Go heavy on the vegetables — add peppers, tomatoes, onions and avocado to preserve authenticity while making your dish heart-healthy. If you need to use oil, choose olive or avocado oil.
Less cheese: Cutting the amount of cheese by half still gives you the flavor and ooey-gooey goodness without all the calories.
Nonfat yogurt instead of sour cream: Yogurt offers the smooth texture and tangy taste of sour cream with a lot less fat and calories. Choose Greek yogurt for added protein and gut-friendly probiotics.
Plant-based or lean protein instead of pork or beef: To keep saturated fat and calories down, choose lean animal protein (chicken or seafood) or plant-based protein (beans or tofu).
Whole beans instead of refried beans: Whole beans have fewer calories and less sodium and fat than refried beans, which are often cooked with lard. If you still want the creaminess of refried beans, just use a smaller amount of fat-free refried beans.
Smart Cooking Methods
Typical Mexican cooking methods involve frying, grilling, boiling or dry roasting (baking at high heat without oil). But now that you have healthy ingredients ready to go, cook them in a way that preserves the benefits they offer.
Frying can add fat and boiling often removes nutrients from the food, but grilling or roasting your proteins and vegetables can allow you to achieve true Mexican flavor and a healthier meal. When it comes to warming your tortillas, baking or steaming offers a great alternative to frying.
Eating Healthy When Dining Out
Cooking your own meals is certainly the healthiest choice, but you don't have to be confined to your kitchen to enjoy healthy Mexican food. If you plan to enjoy the flavors of Mexico in el restaurante, try these tips:
Customize your order: Most Mexican restaurants let you personalize your meal — make smart choices with proteins and veggies. Get your sour cream on the side.
Divide the portion: Restaurants typically give you more than a healthy portion, so divide the dish into multiple meals. That way you'll get two (or three) yummy meals out of one.
Pick one carb: Burritos that include rice can get unhealthy fast. Opt for a bowl (with brown rice) instead of a burrito. Or if you're having a tortilla, skip the rice.
Mexican Meal Makeover: Healthy Tacos
There's a reason people love "taco Tuesday" — tacos are easy to prepare, family-friendly and super delicious. The challenge is that authentic Mexican tacos can include less-than-healthy ingredients such as beef, cheese, sour cream and oil-fried tortillas.
The good news is tacos are easy to customize. The framework of a taco is simple: tortilla + protein + toppings. Make healthy choices while staying within that framework, and you'll have a quick and healthy meal. Follow these steps to give your tacos a makeover:
Choose a corn tortilla, either hard or soft. Microwave a stack of soft corn tortillas (wrapped in damp paper towels) for one minute to warm. Hard shells can be heated in the oven according to package directions.
Cook your healthy protein, opting for olive oil when necessary. Grill fish, chicken or shrimp. Cook plant-based protein (beans) on the stovetop. Load up on spices like garlic powder, onion powder, chile powder, cumin and oregano to add Mexican flavors to your dish.
Prepare healthy toppings that include lots of produce such as shredded lettuce, tomatoes and salsa made with tomatoes, mangoes or pineapples.
Top with avocado, a sprinkle of shredded cheese and nonfat or Greek yogurt in place of sour cream.
---
Next Steps and Useful Resources