November 18, 2022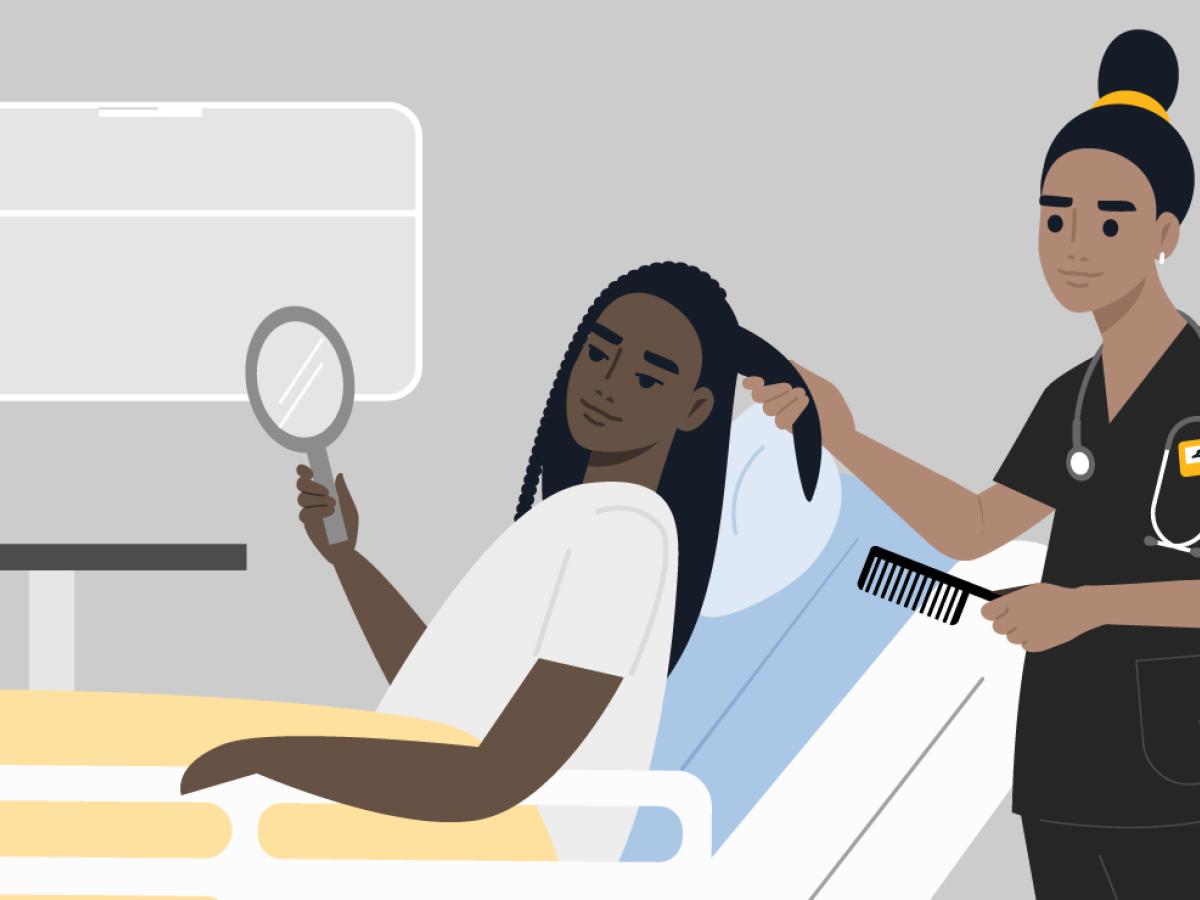 There's no denying it: How your hair looks affects how you feel. That's why most women spend 55 minutes a day on their hair (with men following closely behind at 39 minutes) compared to just 28 minutes a day getting smarter with educational activities. Priorities, schmiorities. It simply makes us feel good, or at least better, to have our hair look the way we want it to look.
"There's a lot of self-esteem factored into what our hair looks like, how much hair we have, and its ability to be styled well," says Sonya Willis, an MU Health Care human resources specialist who also happens to have more than 30 years of experience in the hair care industry. "A lot of times, when we have a good hair day, we feel like we can conquer the world."
The mental health boost from hair care doesn't only benefit someone heading to work or out for a night on the town — it also plays a valuable role in health care.
Why Is Hair Care Important for Patients?
Our hair is often a reflection of our health. And although looking good can't always heal what's happening inside our bodies, it can lift our spirits. While taking care of a hospitalized patient's hair is essential for hygiene, it's also crucial for mental well-being. And it can play a part in a patient's overall health and healing.
"If a person's hair becomes greasy or matted after being in the intensive care unit (ICU) for a significant amount of time, one of the first things they ask for is to have their hair washed and combed," Willis says. "It's so tied up in our identity. It's the one thing, if nothing else, that helps us feel human and feel like ourselves."
Even when hospitalized patients aren't bedridden, their hair can be a source of frustration. It can change in texture and quality in response to certain medical conditions, medications and therapies, such as chemotherapy and radiation therapy. It may respond differently to the products and styling techniques that may have worked before. For many patients, it can mean more bad hair days than good.
Challenges in Patient Hair Care
Hair care for patients is only therapeutic when provided inclusively. Patients look and feel their best when they receive care specific to their hair. But for many health care networks, achieving that goal means overcoming significant challenges, including:
Not enough resources available to care for different hair types
Hospitals care for a lot of patients. And they've traditionally taken a one-size-fits-all approach to hygiene and hair care to manage that volume efficiently and at a reasonable cost.
"The shampoos most hospitals have available are typically geared toward hair that is fine and silky straight with a tendency to be oily," Willis says. "It just doesn't represent the population. We need to see each patient through the lens of diversity, equity and inclusion."
When patients with different hair textures and types don't get the hair care they need to feel like themselves, it can hurt their mental health more than it helps. Hospitals need to consider stocking products specific to all hair textures and types, including thin, thick, oily, dry, straight or curly.
Inadequate training for providing inclusive hair care
Nurses and patient care technicians offer the most direct patient care. Their responsibilities include general hygiene, shampooing, bathing and providing for the patient's needs. Performing those simple services helps to build the patient-caregiver relationship. But when things get busy, hair care is often the first service to be put on the back burner.
Even when the care team can provide hair care, they need adequate training to offer these services inclusively. They don't always know how to care for different hair types and textures or how to initiate a conversation about a patient's individual hygiene needs.
"Inclusivity needs to become a normalized way of caring for patients," Willis says. "So that it's not something you have to pause and consider. It should feel natural to approach a patient and find out what care they need and how they need it. If those needs involve caring for their hair, there shouldn't be any apprehension or hesitation."
Making Hair Care a Priority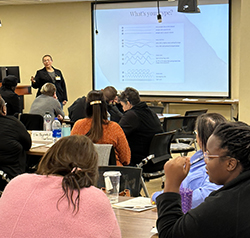 Spurred by Sonya's passion for diversity, equity and inclusion (DEI) and hair care background, MU Health Care — with the help of its HR, DEI and continuing education teams — is meeting challenges in patient hair care with their Hair Care Initiative Through the Lens of DEI. This initiative recognizes the importance of hair care in the health and healing of patients and provides:
Resources for all hair types
MU Health Care hospitals provide hair products to meet the needs of all hair types and textures. Those include scalp care, satin bonnets, and shampoos and conditioners specific to different hair textures.
Hair care training for health care workers
Nurses and technicians at MU Health Care are learning to offer personalized hair care to their patients. The training provides:
Guidance in using appropriate and inclusive language and dialogue to provide patients with dignity and respect when discussing hygiene and hair care
Hair care techniques for all hair types and textures
Information about the available hair products at their disposal
Resources and on-site support if they need help with a specific patient, hair type or situation
"Our emphasis is really on what we can do for each patient," Willis says. "We don't stress the technical parts of the care too much. We want to ensure we are listening to the patient and understanding their needs, no matter who the patient is, to find out what we can do for them in the time we have."
---
Next Steps and Useful Resources
Want to learn more about MU Health Care's diversity, equity and inclusion efforts? Read more.
Interested in working at a company that supports diversity, equity and inclusion efforts? Join the team.