July 25, 2022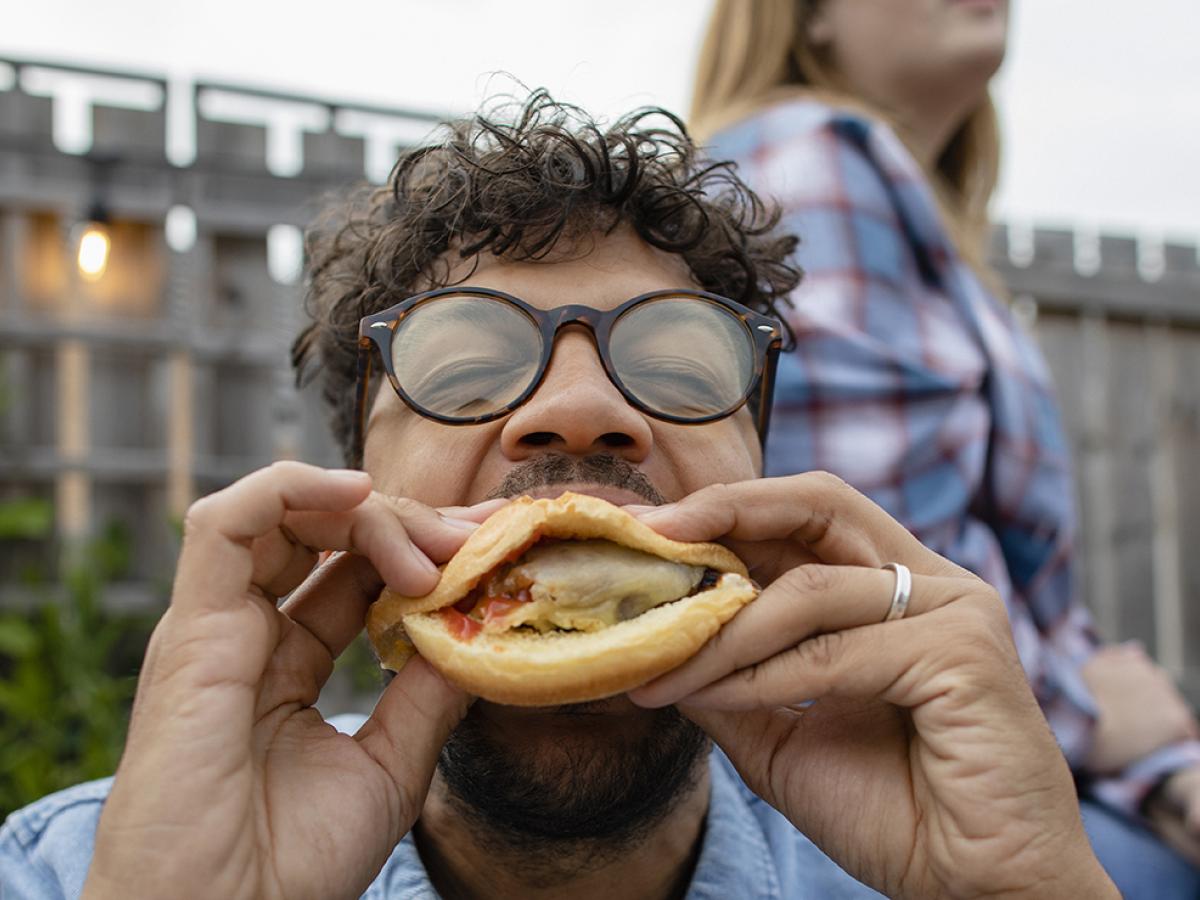 American cuisine isn't always easy to define. But even in a cultural melting pot, there are some cooking practices and dishes that are iconic — apple pie, hamburgers and comfort food like meatloaf or macaroni and cheese. These dishes make you want to slow down and relax with family and friends, even though the American lifestyle is anything but slow.
To learn how to eat our favorite American cuisine and still stay healthy, we turned to Elizabeth Freeman, clinical dietitian at University of Missouri Health Care. In this third installment of our series on eating healthy across several cultural cuisines, Freeman shows us how to enjoy the foods that make us proud to be American while minding our health in the process.
Making Healthy American Food at Home
To keep up with the pace of life, the typical American diet often consists of meals that are more convenient than healthy — processed and fast food can contain added sugar, fat and artery-clogging oil. But there are quick and simple ways to make healthier American food at home:
Healthy Ingredient Swaps
You don't have to give up your comfort food and summer gatherings to stay healthy. Just try making some healthy choices by using:
Plant-based or lean protein instead of pork or beef: To keep saturated fat and calories down, choose protein that is lean (chicken, turkey or seafood) or plant-based (beans).
Half or no bun: Americans love their burgers, hotdogs and sandwiches layered on bread and rolls, but opting for half the amount of bread (or a lettuce wrap instead of a roll), can save up to 30 grams of carbohydrates and 150 calories.
Fewer condiments: Whether you're slathering on mayo, ketchup or blue cheese dressing, you're adding sugar and calories. If you must have the sauce, consider cutting the amount in half — you'll get the flavor without a sugar spike.
A side of veggies: Always fill half your plate with vegetables. Whether in a salad, roasted or grilled, locally grown produce is an easy way to balance your meal and support farmers.
Fruit for dessert: Fruit offers a perfect natural sweetness after a big meal. Craving apple pie? Skip the crust and bake apple wedges sprinkled with cinnamon for a quick and easy treat.
Smart Cooking Methods
Even though it's easy to have meals delivered right to your door, you can make healthy American fare right in the comfort of your home. If cooking time is a concern, consider cooking all your proteins and veggies for the week at once to save time on weeknights.
Look to the grill or oven to cook meat, fish and veggies with the least amount of added fat. If you like crisp texture of fried food, consider using an air fryer. It circulates hot air around the food and uses only one tablespoon of oil to create a crunchy, crispy exterior.
Eating Healthy American Cuisine When Dining Out
Enjoying American food while staying healthy doesn't mean you're trapped at home. You can still enjoy your favorite restaurants — just make a few different choices while you're there.
Only eat half: Whether you wrap up half your meal or choose a single burger instead of a double, you'll be saving half the saturated fat and calories.
Don't add cheese: A lot of American restaurants offer the option of adding cheese to just about anything. Ask yourself if you really need it and skip the add-on whenever possible.
Choose a salad or veggie on side instead of fries: It's easy to mindlessly eat the fries at the end of your meal. Instead, balance your plate with vegetables.
Get sauce and dressings on the side: You likely don't need all the sauce the restaurant adds. Getting it on the side puts you in control of how much you use.
Get water instead of soda or sweet tea: Make your meal about the food and skip calorie-laden soda and sweetened drinks.
American Food Recipe Makeover: No-Mayo Potato Salad
An all-American cookout can quickly add a lot of carbohydrates, fat and calories to your day. While filling your plate with fruit, vegetables and lean protein is an easy way to keep the calorie count down, there are ways to still enjoy some of the starchy sides you love.
This New York Times recipe for potato salad with Dijon vinaigrette offers a quick and healthy side for any cookout:
Place 3 pounds of small potatoes in a large pot and cover with water. Bring to a boil and cook until tender, about 20 minutes. Drain, cool and cut the potatoes in half.
Combine ¼ cup of red wine vinegar and 3 tablespoons of whole grain Dijon mustard in a large bowl and slowly whisk in a half cup of olive oil.
Add the potatoes to the vinaigrette and mix gently to cover. Add 6 chopped scallions, a half cup of chopped parsley and a quarter cup of chopped dill and mix again. Salt and pepper to taste.
---
Next Steps and Useful Resources
Want to discuss more with a certified dietitian? Find one today.
Looking for more healthy eating ideas? Read the first two parts of our Eating Healthy Across Cultural Cuisines series highlighting Mexican Food and Soul Food.