August 29, 2022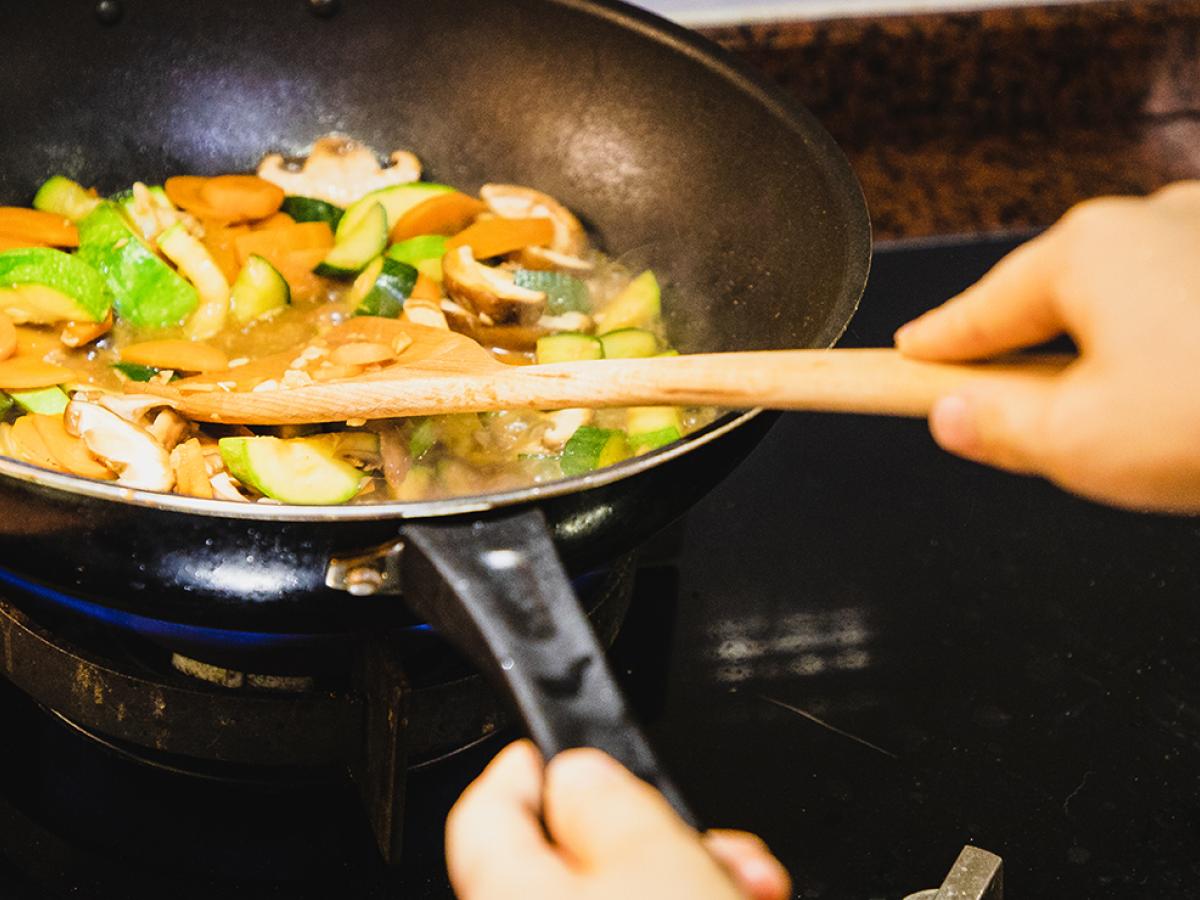 Asian cuisine includes a variety of flavor profiles and cultures. But whether the food is from Thailand, India, Japan or China, you can bet it includes rich sauces, aromatic spices and satisfying textures. In most Asian dishes, you'll find a balanced plate filled with protein, vegetables and grains — and very little saturated fat.
The challenge with Asian food is in the cooking. When noodles, rice, meat and vegetables are stir-fried in too much oil or tossed in high-sodium sauces, your balanced plate can quickly tip toward unhealthy.
To show us how to enjoy the rich flavors of Asia while staying healthy, we turned to Elizabeth Freeman, clinical dietitian at MU Health Care. In this fourth and final installment of our series on eating healthy across several cultural cuisines, Freeman outlines small tweaks to Asian food that preserve the flavors while promoting good health.
Making Healthy Asian Food at Home
Ordering Asian food from a restaurant is an easy option — the meals tend to taste good, arrive quickly and include large portions. But you can also make those dishes at home, all while controlling the ingredients and cooking methods:
Healthy Ingredient Swaps
The good news about Asian food is that the flavors come from spices and sauces so you can swap out your ingredients without sacrificing the taste. Make your meals healthier by using:
Plant-based or lean protein instead of pork or beef: Choosing plant-based (tofu) or lean animal (chicken, seafood or duck) protein can help reduce saturated fat and calories.
Lower-sodium ingredients: A tablespoon of soy sauce contains 1000 milligrams of sodium, which is almost half of the daily recommended amount. Keep sauces to a minimum and opt for lower-sodium sauces and broths whenever possible.
Nutrient-rich carbs: Choose carbohydrates that deliver more vitamins and minerals, such as brown rice or edamame, buckwheat or mung bean noodles.
Smarter fats: Olive oil, canola oil and avocado oil are your healthiest options when stir-frying.
Smart Cooking Methods
Asian dishes often rely on stir-frying and deep-frying, but many of the ingredients work just as well when they are steamed, boiled, grilled or roasted. These alternate cooking methods use the least amount of fat.
To create the same flavor and browning of a stir-fry, slightly undercook your vegetables and proteins using a healthier method. Then lightly stir-fry everything together to finish the job.
Eating Healthy Asian Cuisine When Dining Out
The atmosphere of an Asian restaurant isn't easy to recreate at home. Sometimes you just want to eat out. The good news is that you can go out to eat — just be smart in how you order and how much you consume.
Know your portion sizes: Carbohydrates are a healthy part of any diet if you eat the right amount. A typical portion of rice or noodles is one-third cup, but many restaurants serve at least one cup with each meal.
Bring half your meal home: Asian food is portable and just as good reheated the next day. Pack up half your meal to keep calories in check — you'll have a delicious lunch to look forward to.
Choose shellfish or tofu: Opting for lean or plant-based protein helps cut excess cholesterol and saturated fat from your meal.
Skip the fried food: Avoid crab Rangoon, egg rolls, tempura or anything fried. Instead, choose steamed dumplings and protein that isn't breaded.
Get sauce on the side: When you get sweetened and high-sodium sauces on the side, you'll typically use less.
Chinese Food Recipe Makeover: Shrimp Fried Rice
Fried rice is a Chinese takeout favorite. But when you increase the veggies and make some tiny tweaks to the rice, oil and other ingredients, you can have fried rice that is lower in sodium and fat with a higher amount of fiber.
This Eating Well recipe for shrimp fried rice serves four and offers a quick and healthy way to use leftover rice and satisfy your craving for Chinese food:
Beat together 1 egg and 2 egg whites in a small bowl and set aside.
In a large wok or skillet, heat 2 teaspoons of canola oil over medium-high heat. Add 12 ounces of fresh or frozen peeled and deveined medium shrimp. Stir fry for 2 minutes or until shrimp are opaque. Remove the shrimp and set aside.
Add 2 teaspoons of canola oil to the skillet or wok. Add:
½ cup chopped carrot (1 medium)
½ cup chopped celery (1 stalk)
½ cup sliced fresh mushrooms
½ cup sliced green onions (4)
1 teaspoon grated fresh ginger
Stir-fry for 3 to 4 minutes or until vegetables are tender. Add the egg mixture and let it stand for 5 to 10 seconds or until egg sets on bottom but remains runny on top.
Add 2 cups unsalted, chilled, cooked brown rice and a 14-ounce can of bean sprouts (rinsed and drained). Turn and toss mixture for 1 minute.
Stir in shrimp, ½ cup frozen baby peas and 2 tablespoons reduced-sodium soy sauce. Heat through and enjoy!
---
Next Steps and Useful Resources